A new season means new outfits and we definitely could not be more excited about that. Spring is the season where it is rather unpredictable. It can be cold in the morning, hot during the day and the temperature drops again at night. In order to put together a stylish spring outfit, you have to start with chic basics that allow you to mix and match with ease. Some of the basics include an elevated T-shirt, light jacket, an easy dress and cropped pants.
With warmer weather, there is a need for clothes to be lighter and shorter. If you want to look sleek in your spring outfit, shapewear can help you to do that. These undergarments can compress and smooth no matter what you are wearing and also keep you cook on warm days. There are some key pieces like body shapers or wholesale shapewear shorts that are good as foundation pieces when building a trendy wardrobe for spring.
Best Spring Shapewear 2022  
For this year's spring fashion trend, there will be plenty of crop cardigans, knitted dresses and polos, mini skirts, denim and more. Ahead are some of the wholesale shapewear essentials that matches your spring garments and will have you feeling smooth, comfortable and fresh.
Butt Lifter Panty
You can keep your buttocks perky with a butt lifting panty. This butt lifter is a great solution for dresses as it will lift your body's best assets. Its seamless design makes sure that there is no visible panty lines so you can wear your skinny jeans with confidence. The high waist provides compression and the extra layer of material on the tummy provided a targeted and enhanced tummy control.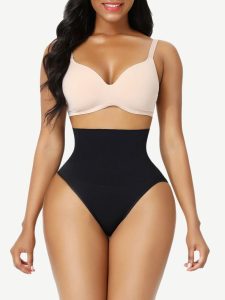 High Waist Mid Thigh Shorts
These shorts make the spring time dressing a breeze. Made with lightweight fabric this short prevents sweat and discomfort. It has a specially designed high elastic fabric on the tummy to provide extra smoothing control. The waistband is smooth and offer a firm hug that conceals the lumps. The hem is at mid-thigh so there is extra thigh support. It is great under dresses and can be worn as cycling shorts. Just add T-shirt, a blazer and sandals for more formal look. You can also wear a cropped T-shirt with white sneakers for a sporty look.
Waist Trainer
If you want to get your body ready for swimsuit season, here is a quick slim down plan to jumpstart your fitness routine. All you need is a waist trainer this Spring. A waist trainer or waist cincher is a high compression garment that you can wear around your waist to slim it down instantly.  Or you can also wear it to supplement your fitness goal because a waist trainer stimulates thermal activity on your core.  This will make you sweat more with less effort during exercise. You can also try waist training by wearing a wholesale waist trainer for at least 6 to 8 hours a day. The waist trainer can help you look your best in the tightest of figure-hugging dresses too.