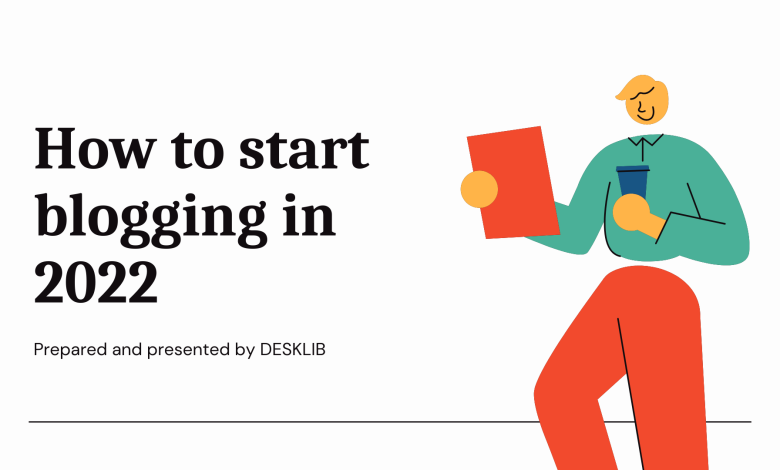 How to start blogging in 2022
It can be for a variety of reasons that you may be wondering how to create a blog. You might want to gain publicity for your business, create a portfolio, or use it as a creative outlet. However, you aren't required to have a degree in computer science to start a blog.
Create the website of your own design agency if you are a designer, and start blogging. I am going to show you what you can do in just a few steps to create a free blog using WordPress.com.
Find out about the best free blogging sites you can use to start your own blog today
WordPress
LinkedIn
Medium
Blogger
Tumblr
9 Easy Steps to Start Blogging:
Step 1. Choose a niche
Find what you are passionate about. Focus on the topics you are most knowledgeable about. If you're starting a blog and you're looking for a niche to write about, this is a great piece of advice that experts will provide you with. Still, it's not an adequate answer. Finding a "profitable" niche should be the number one priority for anyone wishing to start a successful blog.
I believe that one of the most important elements to starting a blog is to find the right niche that will attract the right kind of readers. It's very likely that your blog will be beaten down by blogs that have higher authority if you choose to choose a niche that has too much competition. The impact of your blog will be almost null if you select a niche in which there is no demand. In order to find a niche that's profitable and can also be monetized easily, you have to find a niche that's in the middle.
Pick a topic that you are interested in discussing.
Research the topic well.
Identify a niche that you can focus on
and check its potential profitability.
Step 2. Choose a good name
It can be really difficult to come up with a good blog name when you're starting out a new blog.
It is well-known that how successful a blog is determined by its name. The name of your blog is the first thing people notice about you, and it sets the scene from what people will think and feel about the rest of your blog.
It's fine to use your own name if the blog will be about your life, you or your services. This can be an effective means of communicating with others. In that case, if people are searching for information about you, they can easily find it if that is what they are looking for.
In Syed Balkhi's case, he often uses his own name while sharing personal experiences in his entrepreneurial journey. It is possible to name your blog as something that doesn't have any obvious connection to the topic of your blog and is still memorable at the same time.
Step 3. Get Domain and Hosting
To choose a blog host, you must first decide whether you want to create a free blog or whether you'd rather pay for a paid blog hosting service. It is likely that a free blog hosting service will satisfy your needs if you intend to run a personal blog in an effort to stay in touch with family and friends. People without much technical experience can easily start blogging with free blog hosts like Blogger and WordPress.com. The blog software is already configured and ready for you, so you don't have to do any script installation or database configuration.
In addition to providing limited templates, the freest blog hosting services allow you to customize the look of your blog according to your preferences. However, since free blogs are primarily supported by advertisements, you cannot remove them from the site.
Investing in a paid blog hosting plan is the way to go for bloggers who would like to turn their blog into a supplemental income source. You can create a blog with greater customization options when you purchase a paid account. Creating an ad-based website will make you the one who will retain all the income generated by the ads that you place on it. In addition, you will also be capable of accommodating much greater amounts of traffic on your website. It is possible to get your blog up and running in just a few clicks with many paid blog hosting providers that offer one-click installation of major blog software.
Step 4. Install WordPress
Start creating your WordPress blog now by installing WordPress on your domain name. As the most popular blogging platform on the earth, WordPress is made easy and straightforward to use.
WordPress is currently used to power more than 455,000,000 websites around the world for purposes such as blogging and website management.
Currently, WordPress powers more than 58% of all the websites on the internet, and every day, numerous websites are being created using WordPress as more and more people are using it to create blogs.
In order to create a blog on WordPress, you need to have the following two things:
It is important to know your domain name (this will be the name of your blog, it will be wpbeginner.com)
A web hosting account (you will have a place on the internet where your website will be)
You can install WordPress with just a few clicks with all the best WordPress web hosting companies out there. WordPress can be installed very easily and typically takes less than five minutes to install, depending on the circumstances.
Step 5. Do WordPress Settings
It is vital that after the installation of WordPress, some basic configurations are made, to ensure that your WordPress Website functions properly.
Create a permalink structure for your blog.
This is the address of your blog post in the permalink structure that can be found on your blog, and these posts can be visited and read by anyone at any time.
As a default, WordPress comes with a Plain Permalink structure, which you should change to Post Name. This will allow you to put a more relevant name on your permalink structure.
Visit your WordPress dashboard and choose Settings > Permalinks > Select Postname > Save Settings
You should complete all of your necessary details in your WordPress user profile since it contains some basic yet important information about the blog administrator.
In the WordPress dashboard, click users > all users > edit > and fill in all your necessary details > Save Changes.
Delete all the preinstalled unnecessary plugins, pages, and posts.
As part of its default installation, WordPress adds a few useless plugins to its blogs that we will want to get rid of since they do very little to improve our blog's functionality.
Set your WordPress Title and Tagline in the Settings.
Navigate to Settings > General > Enter your site title and Tagline and save changes
Step 6. Choose a Good Theme
Choosing the right theme for your WordPress blog is essential since the theme affects the user interface as well as how your blog appears overall.
Therefore, selecting an appropriate theme is essential.
Remember to customize your blog's theme after installing a WordPress theme
Following are some typical sections of a blog, and you should customize them according to these.
Header
Navigation Menu
Content Body
Sidebar
Footer Menu
Copyright Text
Step 7. Install Essential Plugins
Our WordPress websites benefit from plugins that help to extend the functionality. Here are some of the essential WordPress plugins that every blog/website owner should install on their site.
Installation of some basic plugins can be done through your WordPress dashboard's plugin installation section.
Here are some of the important plugins that you must install after installing WordPress.
Really Simple SSL
Akismet Anti Spam
Contact Form 7
WP-Optimize
WP Rocket Caching Plugin
UpdraftPlus
Social Snap
Social icons by Wzoom
RankMath SEO
OneSignal Push Notifications
iThemes Security
Easy Table of Contents
Jetpack by WordPress.com
Step 8. Post Blog
You have just started your awesome blog. Now it is time to start writing blog posts and publish it live to the world.
Start writing your blog post by logging into your WordPress dashboard.
This is how you do it. Once you have done this, you can begin writing your blog posting, assigning them to categories, and finally publishing them. As soon as you have finished writing your blog article, you can start creating important blog pages.
You must have these pages on your blog.
About Us
Contact Us
Disclaimer
Privacy policy
Blog
Homepage
DMCA
Affiliate Disclaimer
Sitemap Page
Step 9. Monetize Blog Content
What are the steps involved in making money from a blog?
Let me give you a shortlist of the ways that you can make money from your blog. Well, there are numerous ways by which you can earn money from your blog.
Freelancing (Designing, Content Writing, and SEO)
Blogging
Affiliate Marketing
AdSense
Membership Site
Training and Workshops
Consultation
Selling Online Course
Selling Ebooks
Paid Webinar
Selling physical Products
Sponsored Posts
Selling ad space on your blog to advertisers
As you can see, I have discussed all the possible ways of making money from your blog previously.
I encourage you to begin your blogging journey and try to write the latest blog. Enjoy writing content and sharing it with others.